Young and Green: youth playing a role in MENA's green future
Young people are active participants in the global climate movement, serving as practitioners, facilitators and instigators of change. This is also true in the MENA region, though perhaps not as visible. Unlike their peers in other parts of the world, MENA youth do not go on strike on Fridays. It is, after all, a weekend day for them. In an online event that is part of the Green MENA Network series, three outstanding speakers discussed what the young generation does for a green future.
Yara Dowani is a Palestinian city girl who works at an organic farm in the countryside of the occupied West Bank. Iraqi Maha Yassin helps to establish dialogue between young activists in Southern Iraq and local academic and governmental stakeholders, so they can collaborate in solving the tremendous environmental problems in the country. Qatari Neeshad Shafi founded the Arab Youth for Climate Movement and with his team became a respected partner of local communities and authorities in Qatar.
Every plant is a universe
"We're all young people. The farm did not pick us; we got attracted to the farm", explained Yara Dowani during the online event hosted by the Green MENA Network project. The people who work at Om Sleiman Farm have master's degrees, they have travelled, have worked with local or international NGOs, but they all ended up at the farm. Yara joined after she did a two-week permaculture course at the farm. "It made so much sense to me, especially in our context, in Palestine, with the occupation and the challenges: to grow my own food, manage my own place, and learn how to manage our resources."
Yara is not the only one who feels this way; many volunteers stay at the farm because of the fulfillment it generates. "You cannot imagine yourself to return to an office. In the farm you are responsible for your own food, you are with nature. It is something we missed in our education and in cities. What was amazing for me was to learn that every plant is a universe. When you work with plants you see life all the time. You feel the freedom and independence that we usually don't feel living in Palestine under occupation."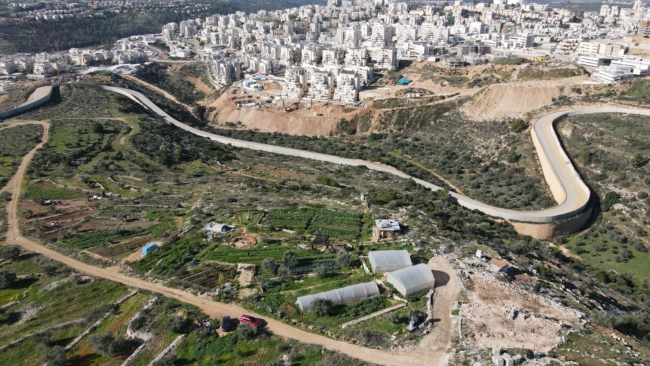 Om Sleiman farm aims to make society healthier. It works from the concept that farming is an ecosystem that produces a healthy society, not a machinery to generate profit at any price. Palestine used to be an agricultural country, but in recent years agricultural work has been stigmatized (as in many parts of the Middle East and North Africa) and is not valued as a career or a way of life. Farmers' children are leaving the villages to study or find work in the city. Yara believes it is important to empower farmers again. "I think there is big movement now, in Palestine, in the Middle East, in the world, among youth, to go back to the land and regenerate the land and live this lifestyle. It is important that consumers are aware of where our food comes from, who produces it and how. Because farmers produce what consumers ask them to produce."
Of course, there are challenges at Om Sleiman Farm. It is located in the so-called area C (Israeli control), right next to the Israeli 'security' wall and a settlement. "We are not allowed to build, or save our own water. Plus, we are a group of young people who never studied agriculture. We learn from experience, from each other. Working in a farm also means we don't have a stable income."
The farm uses a community supported agricultural model that connects the farmer to the consumer. In regular farming, farmers need money at the start of the season for seeds. Then they need to find a market for their produce. In community supported agriculture, customers pay in advance. The farmer doesn't need to borrow money, knows how much she has to produce, and does not have to worry about marketing. Om Sleiman Farm followed this model in the last six years. "We started with eight families from Ramallah, and now we produce organic vegetables and products for forty to fifty families in the coming winter."
Awareness campaigns on Facebook
The environment in which Iraqi youth grow up is very different from that of Palestinian youth, but it is no less problematic. Iraq has been plagued by internal and external conflicts for decades. Mismanagement, war, and environmental exploitation exacerbate the country's sever climate change impact. Water scarcity, contamination, and air pollution are just a few of the many environmental issues. For many years, the government's priority has been to stabilize the country, and improve the economy. Most investments went to the oil industry. Other sectors, such as water and agriculture, were seriously neglected. Much of the country's endless lands of date palms, that used to make Iraq the biggest date producer in the world, turned into desert.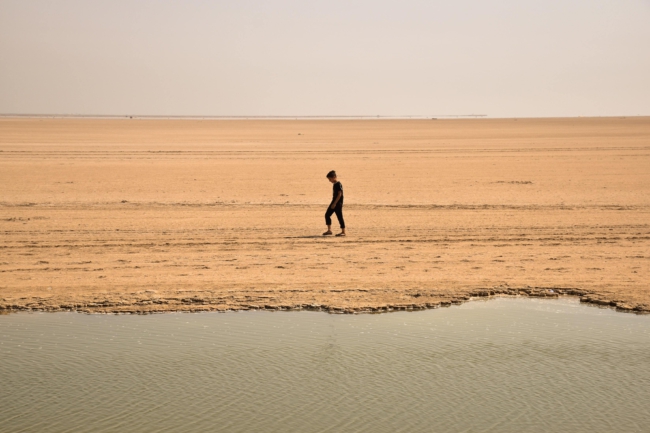 Due to the instability and conflicts, activism for climate issues and environment is relatively recent in Iraq. "The scale of environmental activism in Iraq is still small, but it is growing very fast," says Maha Yassin. She is a Junior Researcher at the Planetary Security Initiative, at the Clingendael Institute in the Netherlands, and she is originally from Basra in South Iraq. She discovered that the few local NGOs that work on greening campaigns are led by youth and they rely a lot on volunteers. Running awareness campaigns is their main activity, for example on the environmental impact of the oil industry, and on what authorities should do in response to it. The NGOs are using social media for their awareness campaigns. "They extended from Facebook, which is very big in Iraq, and started using also Instagram and twitter."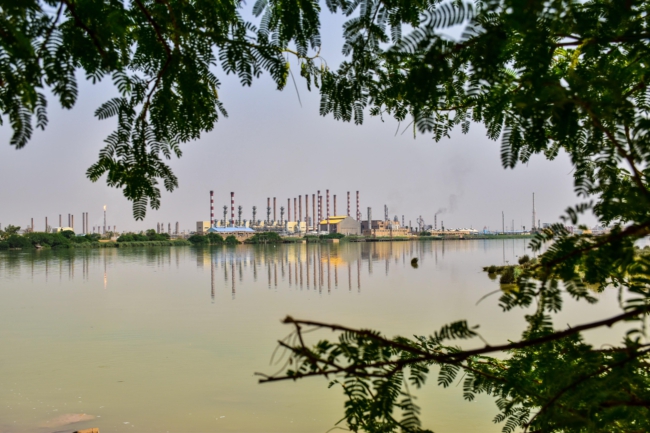 What Maha saw is that after a first phase of activity to activate more volunteers and obtain some small funding, NGOs tend to begin implementing concrete projects on the ground. They continue to combine awareness raising with activities, but they do need exposure and international support. "They are mostly young people who want to build their own capacity. It is great that they have access to the very affordable tool of social media to make their voices heard. But they need support to reach decision makers, and to collaborate with them to make real change on the ground." Because in the end NGOs in Iraq cannot do much unless they cooperate with the government and other (international) institutions.
Collective work by young people across the globe
A whole different setting for youth climate activism is Qatar, where Neeshad Shafi founded the Arab Youth Climate Movement (AYCM). We know the Gulf states for their extravagant lifestyles and their economies based on fossil fuel. What we do not always know is that the local Bedouin communities used to be deeply connected with their environment. The AYCM-Qatar has a mission to revive this connection. Through a wide range of activities, including the training of young 'ambassadors' and the involvement of imams, they raise awareness among the local communities on the importance of the environment.
Neeshad was motivated to establish the organization when he realized that young people from the Middle East are not visible at all in the global youth climate movement. "The narrative is that young people from the global North are going to save the world," says Neeshad during our online talk. "That is rubbish, it is a collective work by young people across the globe. Everybody needs to be included."
"The commitments to deal with climate change have to come from the highest level of the government, but there is also a huge role for civil society, especially young people, in making our leaders accountable". "Our goal is to empower young adults at the grassroots level to speak up about environmental and ecological issues in the region. Not from the government perspective, but from a community perspective."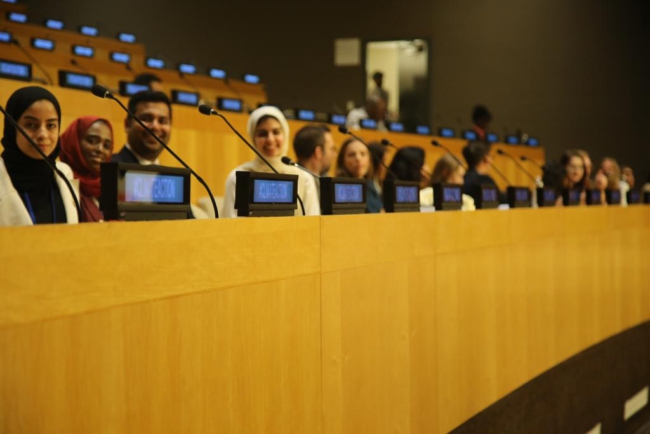 The AYCM invites high level speakers, grass root speakers, activists, and UN diplomats, to speak in public libraries where everybody has access. "We do that because in the past this type of events took place in universities or government events where the public didn't have access. We want everybody to learn and understand that climate is not just something happing on the poles, but is also affecting our region." "We train young people to take the lead in these discussions. And we make a connection between these topics and their daily lives." The organization has good relations with the local authorities, in fact it is the only registered youth organization in the country. Clearly, the government recognizes the value of its work. AYCM collaborates with various ministries, with the local Chamber of Commerce, and was asked to represent Qatar in a number of formal international youth conventions.
Amplifying voices of young people in the MENA-region
Young people are active campaigners to raise awareness. In Palestine, Iraq and Qatar they work with local communities, and try to educate them on the importance of a healthy environment, healthy food and clean water. They connect the local context with national policies, and seek collaboration with authorities if that helps their cause. Or in contrast, in the case of Palestine, they celebrate the freedom and satisfaction in growing their own food.
This means that European NGOs and governments have excellent partners on the ground to help them implement the global green agenda. Of course, young people sometimes need skills and knowledge development, and this is something that requires funding and support. European actors can help with this, and they can also use governmental channels to influence decisionmakers in the MENA-region. According to Neeshad, "Europeans are in a better position to reach our leaders, through trade routes and foreign policies." If donors or governments want to be supportive, they need to understand the local context, says Yara: "Europe helps by getting more aware of the situation in Palestine -the occupation and restrictions – support the farmers who are at the frontline. It would help if Europeans change their perception of Palestinians and people in Arab countries."
Above all, it is crucial that these young people are recognized as critical players in achieving climate justice and finding sustainable solutions to environmental problems. Europe can support them by providing platforms for youth to speak up, express their needs, and work together to find solutions that are part of local strategies. As Maha explains: "Giving activists a platform to raise their voices is of great help. Giving the ones who are doing the work on the ground a stage. It may be difficult to reach them, and language may be a barrier, but giving them a platform to speak about the challenges and what they want to do, helps tremendously."
While the youth movement is most visible in the global North, we must also support the most vulnerable people in the global South, including the Middle East and North Africa. And a critical component of this support, is providing a platform for and amplifying the voices of young people in the region.
—
Yara Dowani from the Om Sleiman Farm in Palestine, that was born in 2016 as an effort to re-imagine resistance as a community effort rooted in the intersection of the social, economic, and environmental. It is a community supported agriculture farm, that mobilizes community resources to support farmers. The farm also provides a space for teaching and learning about sustainable practices in farming and building. The farm is based in Bil'in and carries the village's long tradition of popular resistance.
Maha Yassin, a Junior Researcher at the Planetary Security Initiative, at the Clingendael Institute in the Netherlands. Her work focuses on raising awareness and catalyzing action on climate change-related security risks in the MENA region. Iraq is PSI focus country where Maha contributes to dialogue initiatives to engage local stakeholders. She also runs the PSI website and media outreach, which function as a knowledge hub on climate security practices, policy research and related events.
Neeshad Shafi, an environmentalist and Social Change Advocate. He holds a master's degree in Energy and Environmental Engineering and is based in Doha, Qatar. He was distinguished in 'the Apolitical's List of the World's 100 Most Influential People in Climate Policy 2019.' Neeshad founded the Arab Youth Climate Movement Qatar and is its Executive Director.
You can find a recording of the online discussion on our youtube channel.